SUN SEA AND SCALPEL
AN amazing 10,000 British women are going overseas each year to take advantage of deals which can save them up to £5,000. We revealed yesterday, in Day One of our fascinating new series, that 4,000 Scots go under the knife each year. Today YVONNE BOLOURI reports on Donna Crooks, who saved £2,500 by having a tummy tuck and liposuction in Greece.
YOUNG mum Donna Crooks wanted to look slim and toned on holiday.
But cosmetic surgery prices were too expensive in Scotland ... so she decided to GET slim and toned on holiday.
She combined an 11-day break in Greece with a tummy tuck and liposuction and still saved £2,500 on UK prices.
Donna, 32, a care worker from Aberlour, near Aberdeen, said: "I had it all done last October, and I feel fantastic.
"In all, including flights, accommodation and medical costs, I paid £3,500. My tummy tuck and liposuction would have cost me around £6,000 in the UK.
"I had my tuck and liposuction the day after I arrived and five days later I was hiking around Athens with my pals. I would do it again and I'd recommend it to anyone."
Donna was unhappy with her shape after giving birth to daughters Chelsea, 14, and Paige, 12.
But hubby Gordon, 37, a warehouseman, loved her, bumps and all. Donna said: "Gordon knew I was unhappy about my shape. I tried everything to get the weight off my tummy and thighs. After a year at the gym I had to admit defeat. This shape of mine was never going to change."
Helpful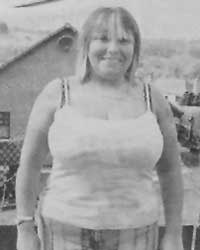 Donna made inquiries about plastic surgery in the UK. She said: "I went for a couple of consultations but I was told I'd have to lose two stones before I could have surgery.
"Again, I knew how impossible that would be. Then I saw a TV show about two women from London going to Greece for plastic surgery and realised my options might lie abroad."
Donna tried the internet and found the website for the Kapositas clinic in Athens, where she could combine surgery with a holiday.
She said: "I emailed them and found them to be very helpful. I sent photographs and told them exactly what I wanted.
"They handled everything for me, from booking me in at the best hotel to ferrying me around by taxi. I didn't pay a penny upfront.
"When everything was organised I phoned the hotel to make sure a reservation had been made on my behalf. Everything was exactly as they said it would be."
Donna decided to travel with two pals, for moral support. She said: "I just wanted my friends there, and it was brilliant. They could stay with me for as long as we wanted.
"On the day we arrived, I was taken to the clinic in Athens where everything was ready for me. I had my heart monitored, a blood test, chest X-rays and everything that was needed to make sure I was fit for surgery.
"The next day I was operated on. Two days later I was discharged and for the rest of the week I was monitored and looked after.
"It was a lot less painful than I thought it was going to be. The tummy tuck took the longest. I was under general anaesthetic so I've no idea how long I was in theatre.
"After stitching my new tummy, they moved on to liposuction, which left my thighs looking slimmer and smoother.
"I'm delighted with the results. On the second week we were all over Athens, even going to Greek dancing nights.
"Believe me, I was on that dancefloor. I was not in any pain at all.
"Now I'm home again, I love my new shape. My clothes and trousers look better and I no longer have an ugly tummy flap.
"Gordon says he's happy if I'm happy. It really was the holiday that changed my life."

George Kapositas runs the UK base for his surgeon brother's clinic in Athens. Dr Nodas Kapositas has been carrying out cosmetic surgical procedures in Athens since 1993.
George said: "While the standard of surgery and pre and post-operative care is on a par with the UK, prices in Greece are about 40 per cent less."